Submitted by

Mandi

on May 26, 2009 - 11:52am
Living on the Hampshire, Dorset border, I am fortunate to have an almost infinite number of choices when it comes to angling location.
Not a million miles away, the Stour winds its way through the hills of the Dorset countryside and offers excellent sport. The ever-growing need for aggregate has culminated in a large number of gravel pit fisheries, offering anglers who prefer to fish still water, the opportunity to do so on a grand scale. Finally, and not least, the Hampshire Avon; a much changed and sometimes maligned river that should satiate the needs of most anglers.
With choices come decisions and while some divide their time between all three, I chose long ago to devote my time almost entirely to the Avon. When anglers visit her banks today they do so increasingly, not in search of the huge bags of roach and dace on which her reputation was built, but in the hope that their prayers of big barbel and chub will be answered. Be it the nostalgic wish for roach or the real possibility of big barbel, the Avon, whether viewed in the throes of harsh winter or the untroubled days of midsummer, remains a jewel set perfectly into the landscape to be cherished and preserved for future generations.
Avoiding the rush
June 16th always poses a quandary for me; I should be straining at the leash that is the close season, too excited to contemplate fishing anywhere but the river. But if you consider the fish and the flurry of activity after three months of relative peace, it must seem to them, like the bombardment of Dresden. Gallons of hemp, caster and maggot are bait droppered into each likely looking swim, along with "front lead" "back lead" and bulging PVA bag. Therefore, I stay firmly welded to my tench swim, content to let the hordes do battle, while avoiding the rush for favourite swims. Within two weeks most will return to the daily grind of "nine till five", leaving us "reglers" in relative peace.

First love
Barbel are my first love, probably because for years they were my nemesis and because when my duck was finally broken by a fish of 7lb 8oz pounds from the Royalty, the milestone of a double was almost as insurmountable. I used to delay my barbel fishing until August however, my impatience to bank my first fish of the season increased yearly until the procrastination lead to frustration. The carpet bombing of bait isn't as effective on the Avon as it once was and it took ages before I committed the ultimate betrayal of using boilie and pellet in the river and longer to accept the guilt for doing so. Times change however, and the fish, having been weaned onto the high-protein offerings by other angler's, voted with their stomachs. My uncle Dick suggested one particular variety of boilie, the results proved remarkable and I was hooked. It's so important to have confidence in your bait, especially on the Avon where you might wait all day for just one bite.
Started with a bang!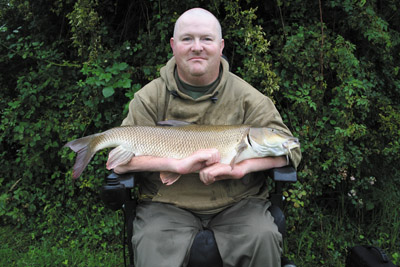 My season started with a bang and a totally unexpected barbel of 14lbs 1oz. Although my mate Pete, who had decided not to fish this particular swim and was walking away as I arrived, predicted a "big un". The fish was a strikingly perfect creature that fought like a lion and presented me with a new personal best that had previously stood at exactly 13lbs. I wondered, could the season get any better? In fact, for a while I was jinxed, perhaps for daring to consider that it might. Such fish cause you to question line strength and, although it was landed safely, I wondered if I should consider replacing my line. I was offered an alternative to try and re-loaded the spools on both reels. Circumstances dictate that I fish with a mate and Trev suggested a change in hook pattern, to a purpose made barbel hook.
What followed was an advertisement for sticking with what you know and over the next few weeks, I blanked, missed bites, dropped, snapped off or pulled out of fish time and again. Eventually, I lost my cool, had the line ripped from both spools, grabbed a spool of 10lb Sensor, a packet of my favourite pattern hooks and went back to what I knew. It's as important to have confidence in your tackle, as it is in your bait. Almost an entire month had been lost, along with three doubles, plus others, it's not a mistake I shall repeat.
All but one of last seasons chosen swims were determined by their distance from the car park. The first, we called it the "sheep dip", had definitely not had any angler attention, there being not a blade of grass out of place. On close inspection, we were thrilled to spot three good barbel that we estimated to weigh approximately 9lbs, 12lbs and 13lbs. In the same swim was a big sleepy carp, well over 25lbs and several chub of varying size, one of which we referred to as a "bloody hell, bloody hell" chub. I'm sure most anglers will recognise that description, it happens during one of those double-take moments when you can't quite believe your eyes; we couldn't put a number on it, it was that huge.
Eager anticipation
Our first day on this swim was largely passed tea drinking and bird watching, our attention taken by a peregrine hunting way up in a late August sky and It was mid-afternoon before we lowered a boilie into the swim and settled back in eager anticipation. The bite came almost immediately and although we didn't see the culprit, the bend in the rod and the ferocity of the initial run, pointed to the carp. The next bait found a bream, and then, in comparison to the big fella, a small chub of 5lb 8oz and finally the smallest of the three barbel, which weighed 9lbs10oz confirming our estimations.
I would like to report the capture of the two bigger barbel and indeed the chub, but we couldn't induce them to feed, despite changes in bait and tactic. They remained tantalisingly close, skulking just beneath the surface water crowfoot. Finally, humiliated by defeat having persevered for weeks, we limped away, vowing not to return until next year. Instead, we went upstream to an old favourite swim of Trev's, where a shallow run drops into a deepening pool of some repute.
Over the next few sessions, I caught bream, a few chub and two stunning barbel of 10lbs 10oz, and 12lbs 4oz and lost another double at the net. One other swim, into which we had thrown a few baits, lay in a small meadow and was crying out for further exploration. Remarkably, it too had seen little attention and despite my being sceptical of its credibility as a barbel swim, just into darkness the net was slipped under another beauty of 11lbs 12oz. We vowed to spend more time there next season, especially as my final double, a fish of 11lbs 4oz, came from the same swim a week later.
An impromptu session, grabbed after a couple of hours of centre-pin tuition for my little brother, just about topped off my season. I hadn't fished this particular swim for several seasons and had only chosen to out of nostalgia. I decided to show it one of Dick's boilies, which, on my second cast, snared what we initially took to be a barbel and which fought like one for about 20 seconds.
Something special
However, when what could have been initially taken for a grass carp, save for its big white lips, slipped over the rim of the net, we gasped in unison. Both Trevor and I shared PB chub of 6lb 12oz and we knew that this one was something a bit special. We gave my brother a shout; there was a strong possibility that none of us would witness another of its size in our lifetimes and when, along with our nerves, my scales settled on 8lbs 1oz, I was fairly convinced that we wouldn't! She lay in the shallows at our feet, recovering with her head to the current for some seconds and we agreed that, even at over 8lb she was still outsized by the "bloody hell, bloody hell" chub we hadn't dare put a number on. The urge to return to the river next morning, was outweighed by my anxious preoccupation with verification of scale accuracy, I needn't have been concerned, the weight stood.
The Avon barbel's powerful, pugnacious, obstinate and unrivalled determination in combat would test the abilities of most anglers, all in all not a bad season. Roll on next year.